Click on the links below each question to find the answers. Good luck!
What is force?
http://dknet.lineone.net/encyclopedia/science/c--force-d.html
The bigger something is the faster it falls. Is this true?
http://beakman.com/interact/galileo.html
Do this activity. When do forces balance?
http://www.bbc.co.uk/education/revisewise/science/physical/13_act.shtml
Play the quiz and watch the movie. What has gravity? What does gravity depend on?
http://www.brainpop.com/gravity/
What are the four forces connected with flight?
http://www.nmsi.ac.uk/flights/own2/forces.html
Do the like poles of a magnet repel or attract? What about unlike poles?
http://micro.magnet.fsu.edu/electromag/java/magneticlines2/
What is friction caused by?
http://www.freeserve.net/reference/encyclopaedia/articles/00101/0010124/001012427.html
Investigate force. Why is it unlikely that a tank will sink in soft ground?
http://www.bbc.co.uk//sia/home.html
What force keeps people in their seats on the rollercoaster even when it goes upside-down?
http://www.kineticcity.com/lab/HCHO/hcho4.html
What are the two main forces involved in every machine?
http://dknet.lineone.net/encyclopedia/science/c--machines-d.html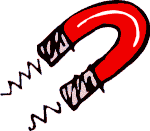 Thanks to Tony Poulter of Hugo Meynell Primary School for this Cyberhunt.